Different disciplines
Car racing (also called auto racing, automobile racing, motor racing, or less accurately motorsport) is unlike most popular sports—soccer (association football), basketball, tennis… Motor racing is a conglomeration of several different disciplines (also called genres, categories, or types), each with its peculiar set of rules, sports skillset, competition hierarchy, vehicle type, and top performers.
The seven main types of car racing include:
open-wheel racing (flagship competitions are Formula One and IndyCar Series),
sports car/grand tourers/GT car racing (flagship competitions are FIA World Endurance Championship and 24 Hours of Le Mans),
stock car racing (flagship competition is the Daytona 500)
touring car racing (top competitions are FIA WTCC—now FIA WTCR and Speed World Challenge),
rallying (flagship competition is the World Rally Championship)
sprint car racing (flagship competitions are World of Outlaws Sprint Car Series and NASCAR Sprint Cup Series)
drag racing
And there are many more types—kart, production-car, one-make, solar car racing… Some are more high-profiled than others. For instance, many regard Formula One (F1) as the 'pinnacle of motorsport'. Furthermore, many drivers (including some of the all-time greats) raced in low-profile genres, such as kart and sprint car racing, before making their way to competing in high-profile divisions.
The implication is that it is impossible to compare disciplines accurately. Sure, F1 cars are the most technologically advanced cars in motorsport and deceleration force when braking can be as high as 8G. But in 2010, the record distance covered in the 24 Hours of Le Mans was 3,360 miles (5,410 km)—a whopping 18 times longer than a Formula One Grand Prix; with the maximum limit a driver can race set at 14 hours. Then consider that the skillset required to become an amazing rally driver is impressive.
Bottom line is: pitting categories against each other is often akin to comparing apples to oranges. This makes compiling an objective top 10 greatest car racing drivers list difficult.
Different sides of the Atlantic
The difference in racing types isn't the only factor that limits the ability to compile a universally agreeable list. Geography is a factor as well. Racing disciplines are not uniformly popular around the world. F1 is popular in Europe. In North America, stock car racing (NASCAR) is overwhelmingly popular (although that has been dipping over the last few years).
As a result, depending on what side of the Atlantic you're on, it is likely that your greatest of all time list will either comprise [almost] entirely of F1 drivers, or have near equal representation of NASCAR drivers (and drivers in other disciplines).
A universally acceptable top 10 list is improbable
In a nutshell, a ranking of the best car drivers of all time that'd be universally accepted is a pipe dream. Now, if it were for a specific discipline or period (say a decade), there'd be more agreement.
Furthermore, for an all-encompassing car racing greats list, there isn't much of a gulf in difference between the first 15-20 drivers by any metric. Consequently, quite a few drivers who miss out of a typical best 10 auto racing drivers actually deserve a spot.
In light of these, we've tried to make the list more representative of the diverse racing genres. We've also arranged the names in an alphabetical order, as such this isn't a ranking. With that said, let's get down to discussing the greats and their awe-inspiring careers (and accomplishments).
Alain Prost
Nickname: The Professor | Nationality: French | Racing Discipline: Formula One | Active Years: 1980-1991, 1993 | Major Achievements: FOUR (4) F1 World Championships, 51 Grand Prix Wins (a record at the time)
Prost always had deep athletic leanings and at a young age gave roller skating, wrestling, and soccer a go. In fact, he thought of becoming a gym instructor or pursuing a professional career in soccer. However, all it took to ignite a passion for racing was a family holiday.
He started out with kart racing at age 14, won several karting competitions, and eventually progressed to become the only French driver to win a F1 World Championship (a record that still stands). At 19 (1974), Prost left school to become a full-time racer. One year later, he won the 1975 French senior karting championship.
His karting championship win meant he was promoted to Formula Renault: He won the 1976 and 1977 Formula Renault championships. Then he moved up to Formula Three and won both the French and European F3 championships in 1979.
At this point, it was clear he was the next big thing in Formula racing and he did live up to his potential. However, his achievements on the course were mired by his feud with another all-time great Ayrton Senna—the bitterest and highest-profile rivalry in F1 history—as well as serial controversies with his teams.
Even so, the success of his calculating, intellectual, and methodical style of racing, which earned him the nickname (derogatory at the time)—The Professor—is unrivaled in racing history. Evidence that although it appeared to be easy (and consequently put down frequently), it was a testament to his genius and exceptional talent.
Alain won FOUR F1 drivers' championships (third highest tally in F1 history; two of them back-to-back (1985 and 1986) to equal Jack Brabham's 26-year-long record. He could easily have had two more world titles.
Renault's lamentable reliability cost him in 1982 when Gilles Villeneuve wasn't in the running anymore.
In 1983, he lost by 2 points to Nelson Piquet even though he was in a seemingly unbeatable position. Renault had dismissed his serious concerns to improve the engine if they were to remain competitive.
In 1984, he lost by only half a point—the closest shoot-out in F1 history—to McLaren teammate Niki Lauda.
Alain would later go on to say, "Without going to what I think is my limit. I always say that my ideal is to get pole with the minimum effort, and to win the race at the slowest speed possible." It may not be the most spectacular approach to many racing fans, but it was darn effective.
Anthony Joseph Foyt
Nickname: Super Tex | Nationality: American | Racing Discipline: Several | Active Years: 1953-1993 | Major Achievements: FOUR (4) Indianapolis 500, Daytona 500, 24 Hours of Le Mans, 24 Hours of Daytona, 12 Hours of Sebring, 159 USAC Career Wins (a record), SEVEN (7) USAC National Championships, THREE (3) USAC Stock Car Championships, TWO (2) IROC Championships
AJ Foyt will race any automobile, from midget cars to pickup trucks. Over a 40-year professional career, Foyt broke records for fun and raced as though his life depended on it. If versatility is the most important metric in your book to measure a driver's greatness, then Foyt comes on top almost every time.
Born to racer and famed racecar mechanic— Anthony Joseph "Tony" Foyt, Sr.—A.J. Foyt Jr. learned the art of not just racing but also building cars. In fact, he built the Coyotes he drove to win the 1967 and 1977 Indianapolis 500.
Super Tex had the always-exciting style of going flat-out and survived three major causes as a result. He narrowly escaped a fourth but has continued to deal with the long-term health implications of these injuries long after retirement.
Even so, the style made him garner an impressive array of career achievements and records, which we can't list exhaustively in this article.
He is the only driver to win the Indianapolis 500, Daytona 500, 24 Hours of Le Mans, 24 Hours of Daytona, and 12 Hours of Sebring.
He and Dan Gurney teamed up and became the first American drivers to win the 1967 24 Hours of Le Mans. It was Super Tex's first and only attempt, he only got 10 laps of pre-race practice, and he completed almost 18 hours of the 24-hour race. Astonishingly, they beat the track record by the largest margin in Le Mans history.
He is the only driver to have had 20+ victories in USAC's four major categories—Indy cars, midget cars, sprint cars, and stock cars.
Ayrton Senna
Nickname: Beco | Nationality: Brazilian | Racing Discipline: Formula One | Active Years: 1984-1994 | Major Achievements: THREE (3) F1 World Championships, 65 Grand Prix Pole Positions (a record at the time)
Ayrton Senna de Silva was born to drive. He was an awkward child growing up, and a later diagnosis showed he had a motor-coordination problem. It may have been a problem in day-to-day living, but when he got behind the wheel at age four, his genius was unlocked as the awkwardness disappeared.
Beco would later go on to consistently push himself and car beyond the limits of physical capability and human endeavor in a way never before (and probably never will be) seen. His ruthless and fierce driving style scared drivers (and their teams), fans, and even himself; but look no further than his 6 out of 8 Monaco Prix wins to acknowledge his greatness. He went hard, weather and competitors be damned.
But it wasn't just his dazzling raw talent, outer-worldly commitment, and sometimes petrifying determination that won him adulation across the world; he also had the charisma, eloquence, and self-awareness that was impossible to dismiss. Sprinkle a bit of spirituality with which millions felt they could identify, and Senna reached demi-god status in his native country Brazil.
Considering that he amassed a record 65 pole positions, 41 wins, and won 3 championships at a time when he raced against all-time great Prost as well as exceptional drivers—Piquet and Mansell; and it is obvious why he is the driver most often regarded as the greatest race car driver of all time.
Dale Earnhardt
Nickname: The Intimidator | Nationality: American | Racing Discipline: Stock Car Racing (NASCAR) | Active Years: 1975-2001 | Major Achievements: SEVEN (7) NASCAR Winston (Sprint) Cup Championships, Indianapolis 500, FOUR (4) IROC Championships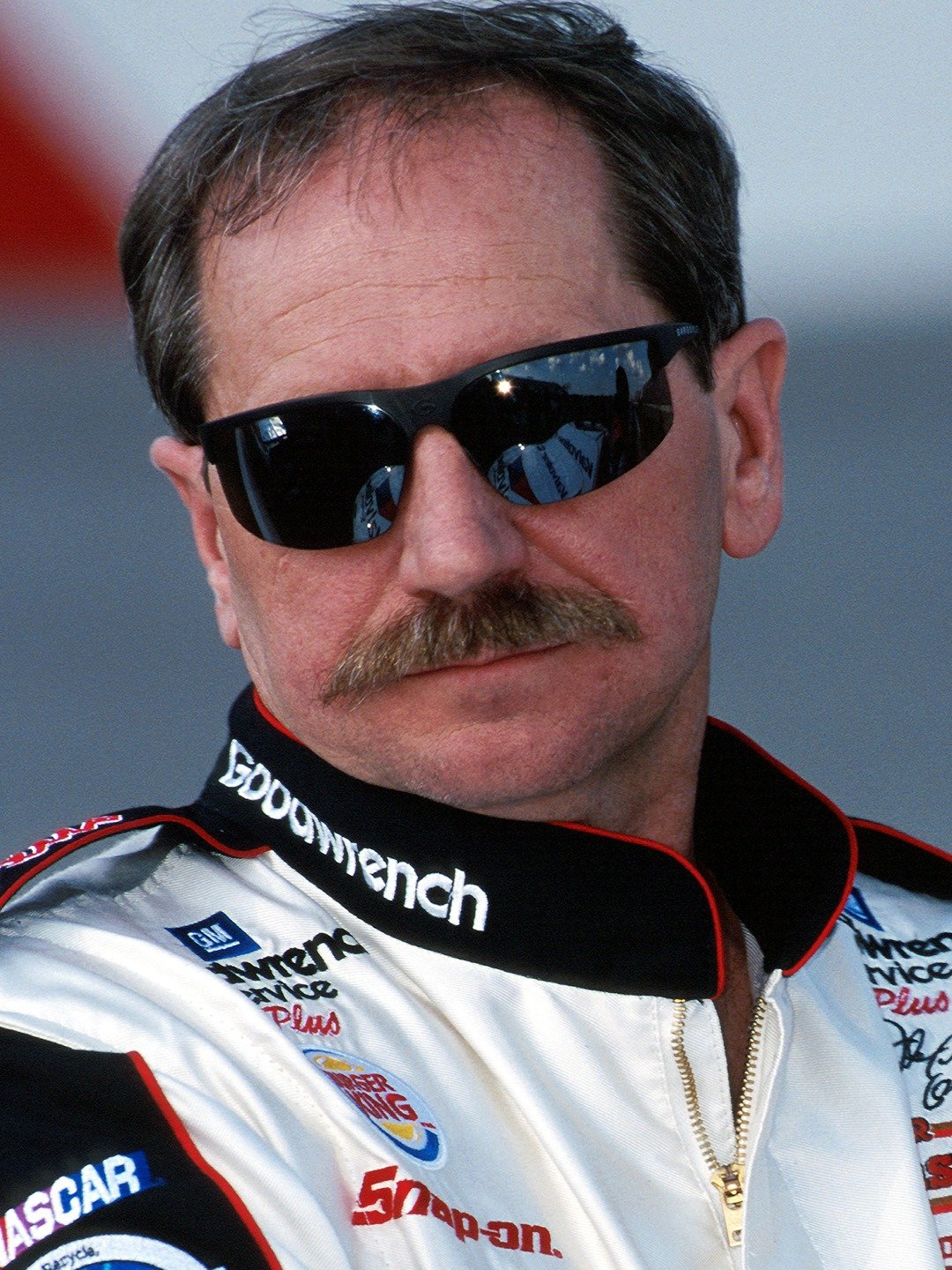 Earnhardt's position on this list could arguably be taken by either Richard "The King" Petty (statistically, the most successful racer ever in motorsport) or Jimmie "Superman" Johnson (the genius who can't help but shatter records for the sake of it).
Petty and Jimmie certainly dominated their eras, but Dale Earnhardt didn't just dominate his era, he owned it. He synergized with the sport and became synonymous with (a synonym of) NASCAR. As a no-holds-barred driver, his aggressive style scared competing drivers but elicited feverish excitement amongst NASCAR fans. What he did on the racetrack; the fearlessness; the determination: it's difficult to describe in words.
Unfortunately, like Senna—his racing spirit animal—Earnhardt died on the tracks. However, his ferocious driving paid dividends as he equaled Petty's 7 NASCAR Sprint Cup Championships record as well as win the Indianapolis 500 in his 20th attempt after several close calls.
Jim Clark
Nickname: The Flying Scot | Nationality: British | Racing Discipline: Several | Active Years: 1960-1968 | Major Achievements: TWO (2) F1 World Championships, Indianapolis 500
How do you win only two F1 championships (compared to Schumacher's 7) and still top Time's 2009 F1 greatest drivers list? Because Clark wasn't a F1 specialist like Senna, Fangio, Prost, or Schumacher; he could race any car in any genre in any weather with any setup.
Jim Clark's talent was undeniable; and he pushed each car he drove to the limit without appearing to be trying too hard. Jim Clark is better known for his Formula One achievements, such as his two F1 championships which could easily have been more if his cars were more reliable, most grand slams by any F1 driver, and amongst the best percentage wins in F1 history.
However, he always made his presence known in any discipline he dabbled in. He made America go "What Just Happened?!" when he won the 1965 Indianapolis 500 after leading for 190 of the 200 laps, to become the only driver to win a F1 title and the Indianapolis 500 in the same year. He participated in the 24 Hours of Le Mans thrice and was in the top 3 twice.
In addition to open-wheel and sports car racing, he also competed in rallying, touring car, and stock car racing.
Juan Manuel Fangio
Nickname: El Maestro | Nationality: Argentine | Racing Discipline: F1 | Active Years: 1950-1951, 1953-1958 | Major Achievements: FIVE (5) F1 World Championships
Fangio is the gold standard, the OG racing all-time great, a towering figure that cast a shadow on every F1 driver that drove after him. The Master needed only 7 years to win his FIVE (5) F1 championships, only eclipsed by Michael Schumacher who needed 14 years to win SEVEN (7).
Fangio was in the top 2 of every F1 World Championship he participated in except his last (where he only took part in two of the first five grands prix). Even more impressive is that he made his F1 exploits in his 40s. He is the only driver to win F1 titles with four different teams. And still holds the record for the most percentage wins and percentage pole positions.
El Maestro cemented his legacy with a grand performance at Nürburgring, widely regarded as the greatest drive in Formula One history. After surpassing Fangio's championship record in 2003, Schumacher had this to say, "Fangio is on a level much higher than I see myself. What he did stands alone and what we have achieved is also unique."
Mario Andretti
Nickname: Piedone | Nationality: American | Racing Discipline: Several | Active Years: 1959-1994 ; 1995-1997, 2000 (24 Hours of Le Mans Only) | Major Achievements: F1 World Championship, Indianapolis 500, Daytona 500, 24 Hours of Daytona, THREE (3) 12 Hours of Sebring, 67 USAC Career Poles (a record), FOUR (4) USAC National Championships, USAC Dirt Track Championships, IROC Championship
The only driver to rival Foyt as the most successfully versatile racer in the history of motorsport, Mario wasn't born into racing royalty like Foyt (later on he and brother Aldo started the Andretti dynasty). In fact, his father disapproved of his racing proclivities. In addition, Andretti was born in Italy and exposed to a fundamentally different racing culture in Europe before his family moved to America.
He adapted like white on rice to American racing and the diversity appealed to him as he eventually went on to participate in midget, sprint, sports, stock, open-wheel, dirt racing events; and amassed an enviable trophy haul over a four-decades-long career.
Andretti has the unique distinction of being the only driver to win the Formula One World Championship, Indianapolis 500, and Daytona 500. Mario also won the 1969 Pikes Peak International Hill Climb (the favorite competition of the Unser clan). That said, while the F1 title eluded AJ Foyt, the 24 Hours of Le Mans eluded Andretti (he came close to bagging it in 1995 with a 2nd pos. finish).
Michael Schumacher
Nicknames: "Schumi/Schuey/Schu," "the Red Baron," "Regenkönig (rain king)/Regenmeister (rain master)" | Nationality: German | Racing Discipline: Formula One | Active Years: 1991-2006 ; 2010-2012 | Major Achievements: SEVEN (7) F1 World Championships (record), 91 Grand Prix Wins (record), 13 Races Won In A Season (record)
A young Schumacher-older Senna matchup reminiscent of the young Senna-older Prost rivalry did not play out for as long as any of us would have liked (Imola happened); but when the Red Baron did come into his own in his era, he gave goosebumps.
He didn't just dominate his era, he rewrote the history of Formula One while he was at it and launched himself adamantly into the pantheons of the greatest to ever drive a F1 car. Whatever you think of him, you just can't fault his numbers. He broke a record number of F1 records taking full advantage of the improved safety of F1 and longevity.
An interesting take of Schumi's achievements is that he played a pivotal role in taking Ferrari back to its old lofty heights and beyond to make it the most successful team in Formula One history. Between 2000-2004, the Schumacher-Ferrari tsunami blew the competition out of the water, winning an unprecedented five consecutive F1 championships, becoming the only driver to finish in the top 3 in every race of a season in F1 history, and making over two dozen records in total.
Although Schumacher courted controversy owing to his brashness, the official Formula One site is right on the money when it equivocally refers to him as "statistically the greatest driver the sport (F1) has ever seen.
Sebastien Loeb
Nickname: Le Patron | Nationality: French | Racing Discipline: Rally | Active Years: 1999-Present | Major Achievements: NINE (9) World Rally Championships (record), THREE (3) Race of Champions, 912 WRC Stage Wins (record), 116 WRC Podiums (record), 78 WRC Event Wins (record)
Loeb started out as a gymnast. By age 15, he had won five gold medals at the French national gymnastics championship. He made the switch from gymnastics to auto racing soon after and started his rally career in 1995.
He proved to be a natural, winning several titles before he started racing in the elite World Rally Championships in 2002. Only a year later, he marginally lost the title by a single point. He returned with a vengeance in 2003 and for nine consecutive years, he won every WRC he participated in smashing and creating new records in the process.
Although a specialist on tarmac, Loeb dominated every rally platform—gravel, tarmac, sand, snow, mixed—unlike any other driver. Nicknamed 'The Boss' for his calm, cool, and focused racing style, he became the gold standard against which every rally racer is measured.
Always welcoming of new challenges, Loeb also raced in rallycross, touring, and sports car events. Impressively, he won the 2003, 3005, and 2008 Race of Champions (Champion of Champions title), he came second in the 2006 24 Hours of Le Mans, and .third in the 2014 and 2015 World Touring Car Championships.
He is unarguably the greatest rally racer of all time (although fellow French driver Sebastien Ogier seems intent on challenging for that title), and deserves a place on any objective top 10 all-time racing greats list.
Steve Kinser
Nickname: The King | Nationality: American | Racing Discipline: Sprint | Active Years: 1987-2016 | Major Achievements: TWENTY (20) World of Outlaws Sprint Car Championships (record), TWELVE (12) Knoxville Nationals (record), 690 World of Outlaws Career Wins (record)
Steve Kinser started out in sports as a wrestler and later became a professional mixed martial artist. Later on, he made his way into racing and eventually became unarguably the best sprint racer of all time.
The King wrote his name all over World of Outlaws (WoW) during his blistering sprint racing career. Kinser is a specialist sprint driver and won a record 20 WoW series, 12 Knoxville Nationals, 12 Gold Cup Race of Champions, and 7 Kings Royal at Eldora.
Read more: Top 10 Famous Car Races in History